There are many reasons to use a VPN to play online, maybe you need to reduce your ping, improve FPS, or maybe you are looking to avoid region restrictions. There are so many VPNs available that choosing one is not an easy job. Let us make your decision easier, try with Surfshark.
Not only we think Surfshark is great for online gaming, is great for everything else. Because there are a lot of other reasons to use a VPN, for streaming, privacy, security and much more.
Surfshark has more than 3200 VPN servers, you can look for the one closest to you or your game server to enjoy the improved speed and lag. You can also use Surfshark to hide your IP address to protect your identity and avoid region lock restricions. Another perk is that you can use Surfshark to switch time zones and get early access to new games!
Why use Surfshark for online gaming
Let's take a look at some of the reasons why we recommend Surfshark.
Reduce lag throttling your connection
Bypass Region Lock
Avoid IP bans
Grab early access to games by switching time zones
Play with your friends anywhere in the world in multiplayers whith server lobbies divided by region
Buy cheaper bypassing price discrimination tactics
Avoid IP block on Steam marketplace while you travel
Hide your IP address on chats, forums, and Discord
Protect yourself from DDoS (Dedicated Denial of Service)
Protect your personal information
Enough servers for online gaming
The closer a VPN server is to you, the lesser the impact the VPN has on connection speed. That's why you need to choose from VPN providers that have many servers. So a VPN like Surfshark with more than 3200 VPN servers is likely to have one close to you.
No bandwidth limitations
A free VPN will hit you with bandwidth limitations harder than a free-to-play game with suggestions to buy premium currency. A good VPN has enough server or good server infrastructure and no speed limits — just like Surfshark.
High-capacity ports
All Surfshark servers have up to 10Gbps ports — friggin' fast! Combine that with 3200 servers being available, and you should never face lag due to server congestion.
All the device compatibility
A VPN that supports only Macs does nothing good for a PC gamer — and vice versa. With Surfshark VPN, you can expect to have an easy time installing the VPN client on any system that can support it.
How to set up Surfshark VPN for gaming
Using Surfshark to play online games is quite simple. Subscribe to the plan of your choice, download the application, choose from more than 3200 available servers the one that fits your needs and connect!
Pick a plan that suits your needs
Download the app that suits your device
Log in & game on!
A gaming VPN for all your gaming platforms and devices
Surfshark will improve the quality of your online gameplay, you will notice the improvement in any online game and on multiple platforms. Download Surfshark's easy-to-use virtual private network apps or set up smart DNS for devices that don't support apps and get back to gaming. Remember: you get unlimited simultaneous connections with a single account — secure all your devices!
Remember: you get unlimited simultaneous connections with a single account — secure all your devices!
Pricing
Price is also a determining factor when choosing a VPN. Surfshark offers up to 85% discount +2 months for free when you sign up for the Starter service on an extended basis. If you subscribe for one month, you pay the full cost, if you subscribe for 12 months you will get a 74% discount, and if you subscribe for 24 months, you will get a total discount of 85%+2 months for free.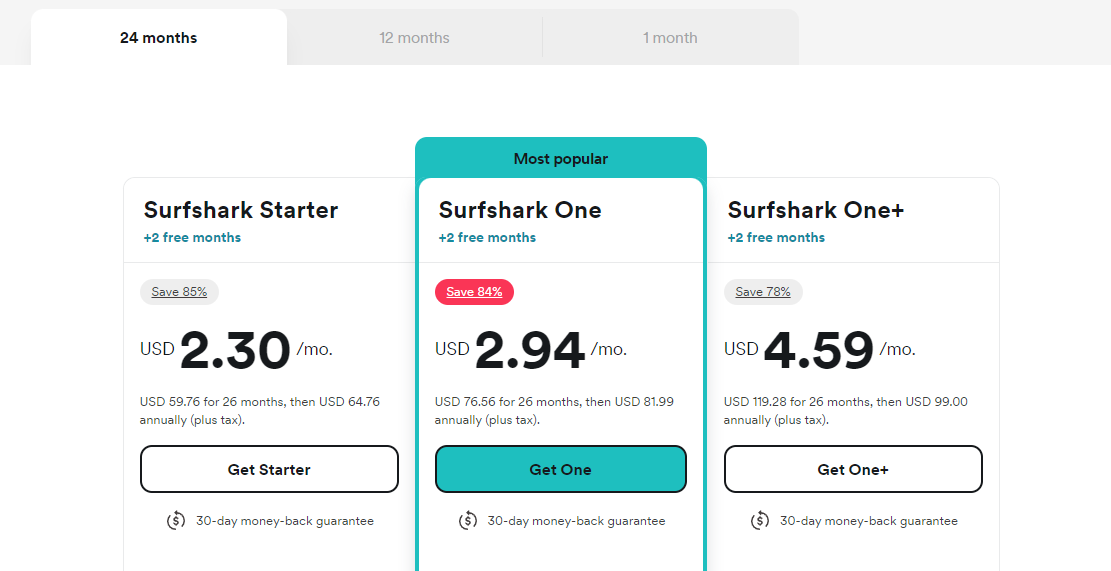 Another great reason to use Surfshark
And last but not least, by using Surfshark you support us! If you are looking for a VPN and agree with us that Surfshark is the best and most complete option, use our affiliate link to sign up, and a small portion of your purchase will come to us through the affiliate program. With your contribution we will be able to continue maintain the website, and invest in making the community grow even more.